When a California Farmer Struggles to Adapt
As the drought deepens, a one-time war refugee and his shrinking community face water scarcity.
Specks of ash float onto Chertai Xiong's gray, smudged baseball cap.
It's shortly after dawn and he carries on as always, weeding, watering, tending to the melons, eggplants, squash and other remaining crops. He leases 19 acres of land outside of Fresno, in central California. After a short time, Xiong, 62, tires from the dismal air quality. He retreats to the cab of his produce truck, where he has some water and listens to the local Hmong radio show. He's pacing himself for the hours to come, when the heat will again rise above 100 degrees on this September day.
The ash now dotting his windshield is drifting over from the Rough Fire, 25 miles to the west. It started six weeks ago and will go on to burn 152,000 acres before it is contained. But today it's just one source of the haze that fills the bowl of the San Joaquin Valley. Along with two other burns, brown dust from fields left dry and fallow during the long drought is combining with the now-invisible layers of smog drifting in from southern California. Some of the pollutants have traveled from as fas as China, completing a journey nearly as long as the one Xiong embarked on 35 years ago to reach this valley.
CLIMATE-SMART
Stories of food, farmers and a global alliance for sharing science-based solutions.
Xiong pulls off his rubber farm boots and leans back for a nap. If El Niño came a year earlier, maybe he would have already renewed his lease for this land instead of facing the reality that he could lose the farm next month from lack of water. Maybe the water table wouldn't be falling as his neighboring farms turn to deeper wells and stronger pumps to keep their orchards alive. Maybe the water experts wouldn't be calling this drought the new normal.
"I never had any issues before," Xiong later tells a farm advisor. "We never thought something like this would happen."
"Most of the reason why California has been in pretty good shape economically is because we have access to groundwater."

Jay Lund

Director, UC Davis Center for Watershed Sciences
Cloudless summers and the hope for winter rain are a way of life for growers in this climate.
But after a long summer—both the hottest and driest on record for the state—Xiong has exhausted the few options he's had for irrigating these crops. He once grew 80 different fruits and vegetables here, but now his farm has shrunk to as few acres as he began with in Fresno three decades ago. He is down to the last 10 percent of well water, fallowing all but four acres.
The most dramatic water loss has happened over the last six months as competition for groundwater has intensified, with farmers receiving no surface water from reservoirs left struggling to maintain their farms and ranches. The land Xiong stands on has dropped by more than two feet because of this groundwater pumping. And it could disappear completely when his lease for the land is up.
A Changing Landscape
With each degree of global warming, 20 to 25 percent of the snowpack in California's Sierra Nevadas is lost. By 2100, it will be 65 percent. Typically this water bank sustains farmers through the long, dry summers. NASA EOS images taken in January 2013 and January 2014 show the effects of the drought in the Sierras.
If the contract expires, it won't be the first time this farmer has lost his land.
In the late 1970s, Xiong and his family fled the mountainous regions of Laos during the country's long civil war.
Xiong and his wife, Zee, left their village on foot for a refugee camp in Thailand. She carried their two young children on her back, while he shouldered a sack of rice to feed them on their journey.
From Thailand they arrived in Los Angeles in 1980. Through special classes for the many refugees arriving from Southeast Asia, the Xiongs learned English and how to live like Americans. He worked in Long Beach as a mechanic, she as a seamstress. They could see the San Gabriel Mountains from their neighborhood. On the other side, Xiong learned, there was farmland as fertile as his homeland.
In the Hmong community, people spoke of the rich San Joaquin soil, perfect for year-round crops like the Laoatian vegetables. Spring and summer runoff from the Sierra Nevada to the east flowed through reservoirs and canals to the farms and the valley's soils; just a century earlier, this terrain was a desert most of the year. One-time farmers in Laos were now migrating to Fresno, the valley's largest city. By the time Xiong and his family joined them in 1989, the Hmong were a community of 26,000, adding nearly 10,000 more over the next four years.
Yet it was also the worst year for what was then the state's longest drought. The farmers would only find relief two years later, from powerful El Niño rains funneling in from the Pacific—a phenomenon that seeded the myth that El Niños will extinguish the worst of droughts.
Regardless of the water shortage, Xiong wanted his own land, but held neither credit nor collateral. Instead, he leased a two-acre plot outside of Fresno. The whole family was put to work: planting, fertilizing, weeding, constructing trellis frames to support the vines of Laoatian vegetables, rotating to cool-season crops, harvesting all year long.
The Central Valley was growing into a diverse agricultural powerhouse for the nation. Clear of the drought, it was greener than ever before. Xiong and his family could see what felt like the whole Milky Way every night. The high Sierras to the east glistened with snow late into the summer months.
Eventually the teenagers took over the Saturday morning commute to San Francisco, three hours away. Xiong sold his best produce at a farmers market there: lemongrass, bitter melon and specialty squashes like opo and moqua.
Twenty-five years later, that same drive through the valley looks different. Some days only the hedgerows bordering farms are visible from the road. The silty haze conceals all else. Even before the drought took hold in 2012, the air quality here was the worst in the country.
Drought Impacts on California Water
Despite a wetter winter and spring, water storage in 2016 remained below average, with groundwater substantially overdrafted in many areas of the state. Since 2013, the drought has cost California's agricultural economy $5.5 billion and nearly 24,000 jobs in total, according to the UC Davis Center for Watershed Sciences.
On days when most stay inside to avoid the smog and the smoke and ash from nearby wildfires,
Xiong, now a grandfather, still makes the short commute to his farm, a brown stretch of land among a patchwork of green orchards. He works sun-up to sun-down, seven days a week, cultivating the remaining corner of his field. His crops, dusty but vibrant, were once native to Laos, Thailand, Burma, India and parts of Africa.
He could retire. His three children—a pharmacist, an accountant and a paralegal-in-training— could support him and Zee, who often works side-by-side with him on the farm. Yet the farming connects him to the culture he left behind in Laos. And it relaxes him, despite the challenges.
What Xiong really wants is his own land. As an owner, he could take advantage of the federal loans to drill a deeper well, if needed, or to install a permanent irrigation system, rather than the hundreds of yards of irrigation hose outlining his row crops. He would have more of a safety net against water scarcity, rather than depending on his family or the community when times are tough. And at the local farm advisor's office, he would be thought of as one of the few Hmong success stories.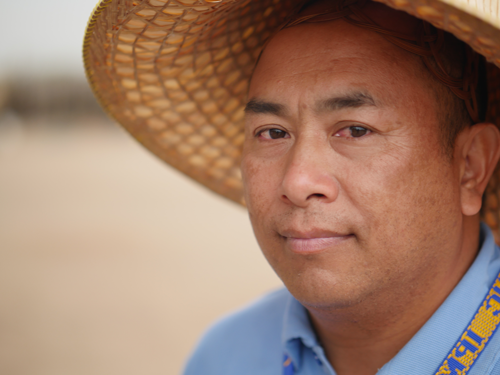 A UC Pipeline of Science to Farmers and Ranchers
The University of California's Cooperative Extension (UCCE) program links county-based advisors like Michael Yang, left, and campus-based specialists to agricultural producers, small business owners, consumers, families and youth throughout the state. UC Davis, along with other UC campuses, provides a headquarters for extension specialists and their research. UCCE began as a partnership between land-grant universities and the U.S. Department of Agriculture.
If a native Hmong speaker is looking for land in the San Joaquin Valley,
the person to talk with is Michael Yang. Yang, who escaped with his family from Laos when he was seven years old, has been assisting local farmers and advisors for more than 20 years from his University of California Cooperative Extension office in Fresno. But lately, when farmers call about new land, Yang has little to offer. Fewer landowners are leasing or selling to small growers.
Just as rushing Sierra meltwater once etched out the dry San Joaquin riverbed, the drought is now eroding California's smallholder farming communities. On lots like the one Xiong leases, landowners must often weigh the benefits of keeping the family farm against the cost of digging a deeper well. Selling the land—whether to someone who can afford to plant higher-value, longer-term crops like almonds or citrus, or to a new housing development—is often a better option. And now with the drought drying up the real estate market as well, many landowners just want to hand over their lots to the highest bidder.
As the drought intensified in 2015, Yang and his colleague Ruth Dahlquist-Willard, a Cooperative Extension small farms advisor, interviewed 68 Hmong growers. More than half were farming with less water and nearly a quarter had lost their wells completely.
Yang has also noticed that few Hmong farmers are still on the same land: their wells dry up, the landowners stop leasing or the farmers simply move away, out of reach for Yang.
Driving around the county, the two farm advisors are seeing less and less of the signature wood trellises of southeast Asian growers. Those still farming have supportive landlords. I know you and I want you to be here for the next 10 years, the owners often say to the growers. I'll deepen the well and let's go 50-50. I'll fix the pump and we'll split it. The grower's reward for the investment, beyond keeping the lease, is upgrading to a longer contract.
Today, Yang knows only five farmers who own their land. "It's hard," he says. "When you work with someone for a long, long time and you see them go out of business, it's heartbreaking."
Fallow land
The Tulare Lake Basin, home to Chertai Xiong's farm, is where most of the 80,000 acres of California land were fallowed due to drought in 2016. When healthy, these soils absorbed carbon dioxide from the air. Now they are releasing those greenhouse gases.
Chertai Xiong is a familiar face at the farm advisor's desk.
He comes for the safety training courses Yang teaches in Hmong. Or he asks for guidance in filling out documents like pesticide use reports. With the number of insect pests surviving the valley's warmer winters, the process has become increasingly common with farmers like Xiong.
These agricultural inputs are closely monitored in Xiong's area. A recent study by the UC Davis Agricultural Sustainability Institute found that 16 percent of California's total use of nitrogen in farming and ranching ends up in the groundwater, with the the Central Valley's low-income minority communities facing the most exposure.
Yang carefully walks Xiong through the reports. He helps him as well with filling out the schedule F form for the farm income tax. For many of the Hmong farmers who speak little English, the paperwork involved in meeting California's uniquely progressive environmental regulations can be overwhelming.
But Yang's expertise is well known in this community; for nearly two decades he has put on a weekly radio show in Hmong, with many farmers tuning in from the fields. They call Yang throughout the week with questions. Where can they buy drought-tolerant jujube saplings? Who do they hire to inspect their well depth? Yang usually has the answers, and when he doesn't, he finds out. Helping in this way, Yang stays connected to his own cultural identity: "I like this job," he says, "because I feel like I'm staying in my family."
One day a call comes from a Hmong farmer who says he didn't know where else to go. He had first reached out to the sheriff's office, but, understaffed, they had other priorities, including the city's rising gang violence. The farmer tells Yang that someone had pulled off the road alongside his field and filled their truck with about an acre of 20 different crops. The farmer found the bare stalks the next day.
Yang has heard stories like this before. Many of the remaining Hmong specialty crops are now more valuable due to the drought. If thieves went through just one or two rows of Chertai Xiong's farm, they could easily make hundreds of dollars from the heist. The Japanese eggplant, one of several specialty crops he grows, has soared in value, from $8 a box before the drought to $50 today.
Despite the high prices of some crops, Xiong needs more help. In the summer of 2015, he calls Yang to ask about land for sale, and to tell him the news: water scarcity has finally driven Xiong to close the lease on his land. The dwindling profit from what he can still grow is too little to cover rent.
"There could be a loss of our agricultural land that can really affect our state and the nation's food supply, especially that of fresh fruits and vegetables."

Louise Jackson

UC Davis Soil Scientist
Many of the Hmong farmers already knew about Xiong's struggle on his land.
In this community, everyone knows everyone, and farming is what they talk about, says Yang. Hmong in Fresno often turn over their lawns to vegetable gardens. Neighbors join together on half-acre plots. And when a farmer loses his land, there's an unspoken sense of cultural shame.
It can be mentally and emotionally difficult for the first-generation Hmong to be separated from their ancestral calling. Early in the drought, in 2014, a Hmong farmer called the local suicide hotline. Then another. And then a third. The farmers couldn't pay their loans and were losing their farms; they said they had nowhere else to turn. Yang's colleague Dahlquist-Willard was called into an emergency meeting with a federal farm service agency about what they thought at the time might be the start of an epidemic. It was her second week on the job.
The farmers did eventually find help and the wave of suicides in the Hmong agricultural community never materialized. Beyond California, however, water scarcity is taking a significant toll on the health and well-being of millions of farmers, from contaminated drinking supplies, famine, poverty and social and political unrest, according to Peter Gleick, chief scientist for the Pacific Institute.
Xiong is close to the average age of the Hmong farmers left here. His children, like most of the second generation, have seen how hard their parents work in the fields and have instead found jobs in the city. Many have left the region entirely.
In late October, the month his lease ends, Xiong rolls up his irrigation hose, dismantles the sun shelter he built, hauls off the refrigerated shipping trailer that stored his harvest and drives off the land for the last time. There will be no cool season crops for him and Zee this year. He has farmed this plot for 15 years. It's been his favorite since he came to the U.S.
Nevertheless, Xiong is an outlier: he finds optimism even in losing his land. Maybe this change will be a step up for him. And with Yang's help, he finds a 10-acre strip of land for sale. He and his daughter start sifting through the heaps of paperwork he will need to purchse it. His optimism, it seems, may pay off.
The State of the World's Water Banks
A third of the biggest groundwater basins worldwide are being depleted, according to a 2015 study led by researchers at UC Irvine. Agriculture accounts for 78 percent of the depletion. More than 2 billion people rely on these basins as their primary water source, while 60 percent of the world's population live in water-stressed regions.
For the smallholder farmers who can still work their land,
Ruth Dahlquist-Willard struggles with how to advise them in this drought. She has focused her efforts on maximizing the water they do have, through pump efficiency, because little else can help these growers on leased land. On his old land, Xiong was able to give more life to his old pump by adding a booster, but he dealt with leaks and a much higher electricity bill.
Dahlquist-Willard advises farmers on negotiating better electric rates for the pump, or taking advantage of zero-interest loans for repairing the pump. But when the only solution is drilling a deeper well, these farmers don't have many options. And because of the language and cultural barriers and the challenge of understanding bureaucratic processes, many Hmong growers are not accessing the government loans, grants and rebates available for upgrading their pumps.
Lately she's found hope in the new State Water Efficiency and Enhancement Program (SWEEP), a climate-smart grant program begun by the
California Department of Food and Agriculture in 2014. With Yang, she recently helped a Hmong farmer file the paperwork to fund more efficient irrigation hoses and drip tape. They estimated his water savings and the greenhouse gas reductions from his electric bill, but had to spend hours breaking those numbers down for each one of his many crops, filling out several forms in the process. Dahlquist-Willard's effort was far more than the typical Cooperative Extension specialist can commit.
But a few weeks later, they learned their work paid off: the farmer received $45,000, nearly the maximum amount for the grant. He could now switch from sprinklers to a drip irrigation system, which also reduces emissions that feed climate change. Like Chertai Xiong, he can take the hose and drip tape with him if he moves to new land. Dahlquist-Willard has since streamlined the grant application process and has now helped 14 more farmers receive funding.
Chertai Xiong In His Own Words
But not all efforts succeed.
In April, in the midst of planting season, Michael Yang receives an update: Xiong and his daughter made a mistake in the paperwork. The bank didn't finance him and the deal has fallen through. Xiong considers asking his old landowner for a long-term lease. This would let him take out a loan to drill a deeper well and replace the aging pump.
Water will be central to wherever Xiong may farm next. Though the El Niño rains over the winter eased the drought and brought the state's snowpack reserve nearly to normal, most of that fell across northern California. With record high spring temperatures, the snowpack drops to 23 percent of normal by June. The drought continues, no longer from a lack of precipitation, but as a "hot drought" from a warming climate.
It's been more than eight months since Xiong has farmed, but he hasn't given up. Soon after he loses the deal, he finds another plot of land in Fresno County. He starts the buying process again, this time with a different lender.
"Becoming a farmer is not easy," Xiong says. "But since my life began I've been a farmer. My parents taught me how to farm, how to be out there and survive. I love farming. It's something that I would never let go as long as I'm here and can still continue."
In October 2016, California receives a nearly record rainfall, pulling a quarter of the state out of drought. The rains herald the winter planting season for the San Joaquin Valley as Xiong sows his traditional Asian vegetables. A year after losing his land to water scarcity, he has begun anew on a modest 10-acre plot; this time, the loan came through. Despite the critically depleted aquifer beneath his rubber boots and the warming climate around him, Xiong is cultivating a piece of land he can finally call his own. ♦
---
Brad Hooker is communications director for the World Food Center. Cameron Walker is a freelance writer serving as consulting editor for the project. Video by John Mounier, UC Davis.
UC Davis Tackles Water Scarcity with Agtech Solutions
California farmers are working closely with UC Davis researchers on breeding drought-tolerant crops, reducing tillage and applying cover crops to encourage resilience and using agricultural land to recharge groundwater basins and restore aquifers. Emerging technologies like low-cost soil sensors and subsurface drip irrigation are enabling farmers to maximize every "crop per drop," doling out precisely what each plant needs. Startup companies specializing in farming-related software for big data, satellite imagery applications and surveillance drone technology are now drawing double the investment over previous years.